Simple Email Tab
Access popular email accounts via quick links instantly from your new tab page!
Easy access to your favorite email providers anytime, right on your new tab.
Access all your emails right on your new tab!
It can really be tedious having to manually type each website just to access your emails from different providers. Simple Email solves that by providing you easy access to all your email providers right on your new tab. Just open a new tab, click your provider, and you're in your email.
By clicking "Continue", I accept and agree to installing the Simple Email Tab extension and setting Chrome™ New Tab to that provided by the service and the Privacy and Terms of Use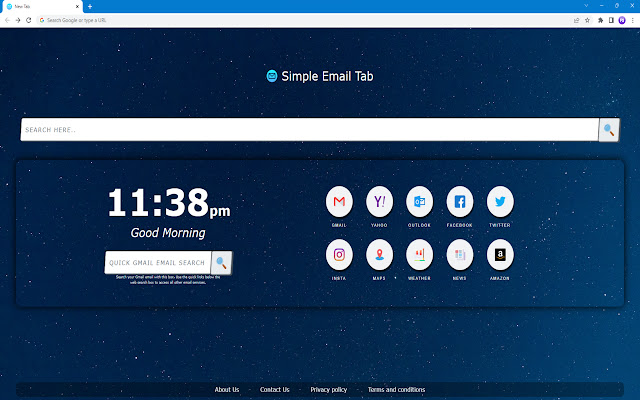 Installing this extension will set your new tab page to Simple Email so you can enjoy the following features:
Features:
Easy access to top email providers
Shortcuts to your favorite social platforms
Quick and powerful search engine results powered by Bing